Creative Office Furniture Solutions
1 Source Office Furniture is Maryland's best choice for creating inspired workspaces.
We Offer Free In-Office Furniture Consultations!
Image: Logiflex Office Furniture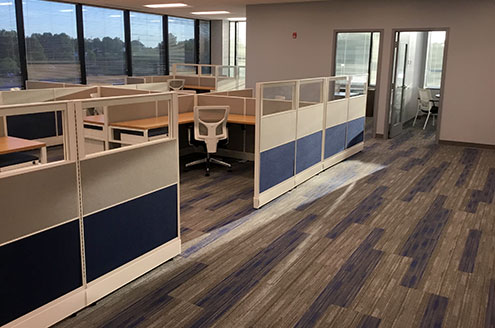 Private Cubicles
1 Source has a wide selection of affordable office furniture, including new workstations and cubicles. We offer NEW cubicles fully customized and installed in Maryland, Virginia, Pennsylvania and anywhere in the continental USA upon request. Workstations are the optimal solution for an open office. 1 Source also sells Haworth refurbished cubicles, which are in high demand for acoustic privacy and environmental responsibility. Two basic types of new office workstations are available: Monolithic panels which have no "tiers" in the construction and tiled panels, which have tiers and are a great choice when clients want to alternate panels of fabric, perforated metal, and glass. Open Plan Systems is among 1 Source's best-selling new workstations because of its affordable price and its draw-rod construction, a durable design which is like that of more expensive workstations. Choose from several 1 Source Office Furniture brands, including Open Plan Systems (OPS), Tayco systems furniture or National Office Furniture, a division of Kimball.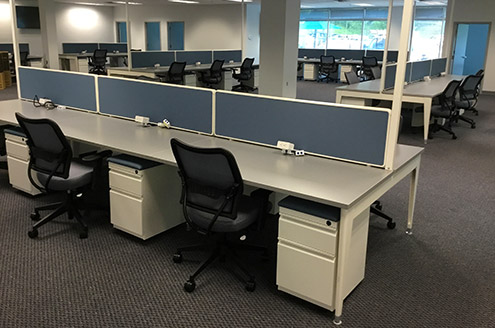 Benching Systems
Benching style workstations have a modern look that breaks away from the traditional walled-in cubicle. By definition, benching systems have long, shared desktops and an open clean-lined appearance. This office furniture system is well-suited for busy offices where teams can collaborate. Many business owners choose benching systems for its highly functional and flexible solution for furnishing an open office space. What about the storage challenge? Pedestal file drawers are added so each employee has either a fixed or mobile desk file. 1 Source Office Furniture's best-selling benching systems include EXPAND (with or without adjustable height desktops) and RAZOR, both manufactured in Virginia for easy shipment to any Maryland, Washington, DC and Virginia locations. Benching style workstations are affordable options for the open, collaborative office. In addition, benching systems are economical and environmentally friendly.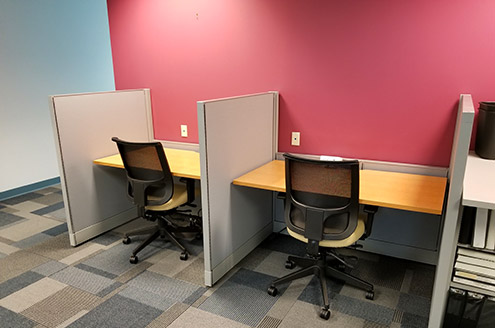 Call Stations & Drop Ins
Call Stations and drop-in cubicles are single surface cubicles with minimal privacy. These are top performing products for call centers and for many industries, such as real estate, insurance, testing centers and education, marketing and more. The experts at 1 Source offer call stations in a beautiful variety of wood finish colors, fabrics for privacy from leading textile factories, and metal frame colors. Call stations can be customized to suit even the most challenging office layouts. The single surface design of call stations allows for sit-to-stand work surfaces as well, when employees want a fully adjustable desk top. For sound control, acoustic panels can be added for each person. This type of workstation is a popular choice for growing companies in Maryland with employees who drop in whenever they need time in the office.
We are a 5 Star Google Business!
"Great company. Responsive and through. It's nice to be able to work directly with the owners who take a sincere interest in making sure the project goes flawless. We have done at least five projects with them, as far west as Denver CO and they have executed perfectly!"
"This company was by far the most responsive and best priced of the office furniture companies I looked at. The service was superior and they were patient with me while I chose the specific product that I wanted. they were even on site for the entire installation to make sure it was perfect. Can't recommend enough."
"I save time and money using 1 Source Office Furniture. 1 Source has great prices and exceptional service all the time."
 

| | |
| --- | --- |
| Average Thickness | Some Value |
| Average Packaging | Nam pretium turpis et arcu. Suspendisse non nisl sit amet velit hendrerit rutrum. |
| Approximate Coverage | Some Value |
| Format Shapes | Mosaic, Rectangular |
 

| | |
| --- | --- |
| Average Thickness | Some Value |
| Average Packaging | Nam pretium turpis et arcu. Suspendisse non nisl sit amet velit hendrerit rutrum. |
| Approximate Coverage | Some Value |
Looking For Creative Office Furniture Solutions?
Contact us now for a free in-office furniture consultation and see how 1 Source Office Furniture can transform your office into an inspired workspace!
We have solutions for modular offices and best practices in open office design.
Why Businesses Choose 1 Source Office Furniture
Led by Marc Rosen and his 35+ years of office furniture experience, 1 Source Office Furniture brings knowledge and expertise to create a very personal experience for each client.
We specialize in transforming offices to perform better
We listen to our customers and design to suit their needs
We apply our expertise to select the best products and options, including:
What our customers have to say
"The folks at 1 Source have been very good to work with. They have been so attentive and concerned with what our needs were…..and they delivered on every promise made."