Do you love your current office location, but feel like you could do more to maximize how your employees use it? You are not alone with this problem, and that's what we do for owners of growing businesses. At 1 Source office Furniture, we offer products that help business owners re-think their physical office space in order to get more employees in comfortably. With our office furniture solutions and product expertise, this can be accomplished with no sacrifice of comfort and style!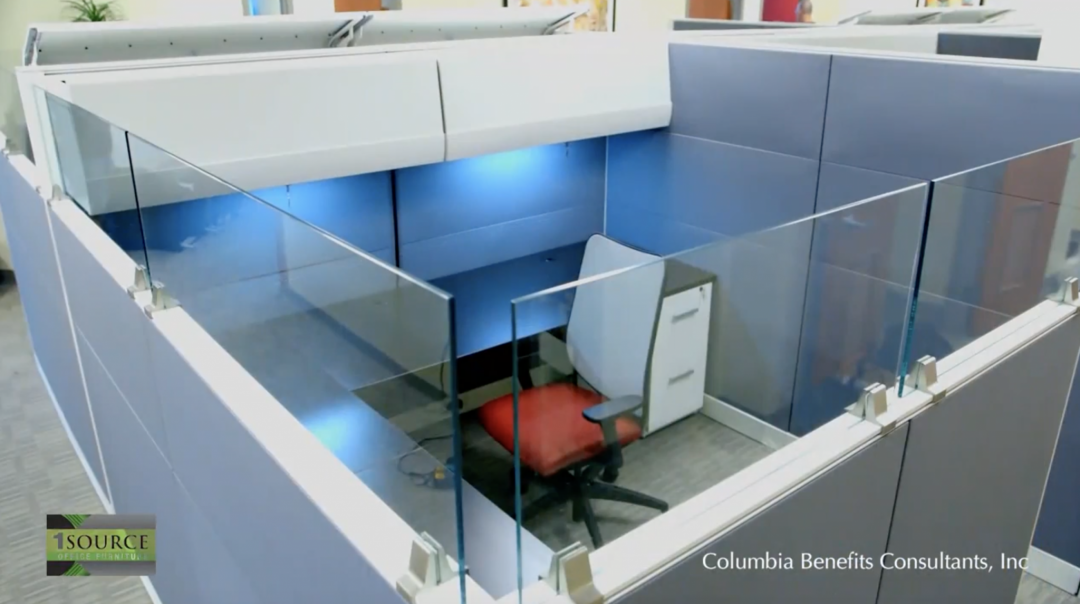 Open Benching Workstations
Open, benching-style workstations is a popular choice in place of walled cubicles. With this option, staffers get all the desk or work surface they need, and the product requires less space because there are fewer aisles and doorways. Noise level should be considered when opting for open, collaborative benching in an office. We use Open Plan Systems for overall looks and affordability.
Modular Training Room Furniture
Modular training room furniture allows your teams to switch the function of a training room so that your meeting rooms are multi-purpose and can expand or contract on demand. We call that three rooms in one!
This is accomplished by using stowable training tables with custom tops, and beautiful, fully padded chairs that fold up when not in use. We have done these for a global corporation that hosts product training sessions in their Linthicum office and needed flexibility for these important events.
Reception Furniture
If possible, rethink your reception area to fit a comfortable reception desk and a few guest chairs. Any extra space can be walled off to become "drop-in" offices for salespeople or anyone who does not need to be in the office all day. Let us help you create a new front reception area that still feels welcoming but uses less space.
Storage Furniture
Maximize storage with lockers or wall units that replace annoying file cabinets. In open areas that have benching workstations, tall cabinets along a wall solve the solution of "where do I put my binders and supplies?"
In private offices, storage can be simple wall-mounted units above the desk return, which is a huge benefit having everything within reach. The cabinet doors can be glass or frosted glass for a modern and classic look.
Offer Options to Employees
If you are moving the business into smaller offices, ask employees privately if they can handle less space or a shared office. You can offer this to staffers who want to work remotely for part of the week and will gladly take a smaller space in the office in exchange for more work/life flexibility. A new move is a great time to re-think what the company's office needs are.
1 Source Office Furniture is a full-service office furniture dealer, serving Maryland, DC, Virginia, Pennsylvania and other states upon request, that specializes in affordable new workstations and systems furniture, case goods, seating and other commercial furnishings for growing businesses.
1 Source is a leader in customer service for office furniture projects, due in part to its highly qualified reps, suppliers and installers, and to the company's commitment to 100% client satisfaction. 1 Source celebrates its 10 years in business thanks to the trust and loyalty of our valued clients.
Contact us at (410) 982-7032 for more information.