This is a great time for Maryland business owners to invest in better offices and stronger businesses for 2021. Because conference rooms are the heart of many businesses, the team at 1 Source designs conference areas that allow for true collaboration in style.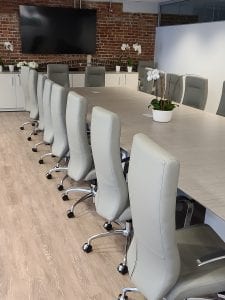 Considering this, 1 Source Office Furniture picks six conference room chairs that are winners for overall design, comfort, durability and value for Maryland business owners looking for new conference furnishings in 2021. As more Maryland business managers welcome back employees and clients, these seating manufacturers are ready with products that are designed with people in mind.  1 Source Office Furniture has the best selection of conference room furniture with your budget in mine.
Also, be sure to check out our owner Marc Rosen's tips for choosing the most comfortable chairs for your meetings areas and conference rooms.  
Tranquility High Back
The Tranquility High Back Leather executive chair from Open Plan Systems (OPS) gives us a slimmed down version of the bulky black chair from the 1980's. What makes a better statement in the board room that high back chairs with a chrome base? This is a chair that is timeless and is a great value.  
9 to 5 Cortina
The Cortina from 9 to 5 Seating is another option for a modern, sophisticated conference room. It comes standard with a polished aluminum base. It has graceful arms that curve up and towards the seat. We selected this chair for a large, glassed-in conference room in a beautiful downtown office at the Inner Harbor. Why? Because the owner asked for a statement-making chair for a generous (six foot wide) conference table. 
The 9 to 5 Seating company produces chairs that meet the highest standards in looks and craftsmanship. 
Sona
So many great things come from California, including SitOnIt (SOI) Seating. We earned the SitOnIt line several years back and could not be happier with their chairs and with their dedication to high standards in their product and in customer service.
The Sona chair has a curved lumbar back for ultimate ergonomics and comfort. In addition, Sona's mesh back has a striated pattern which adds a dash of style to the board room. As the manufacturer puts it, Sona is a favorite for conference use because of its "smart, sleek and slim" design. And we agree.   
Torsa
When our clients want an outstanding conference chair, SitOnIt has many options. The Torsa with a mesh back has many design options "standard" which means there is no extra charge for personalizing the chair in a striped mesh or a colored mesh back. The Torsa has a waterfall edge seat and an enhanced synchronize mechanism for ultimate comfort in a conference chair.
Merak
The Merak chair from C.O.E. has a sleek and dignified look for any board room. Our source for this chair has thousands of products stocked and readily available for delivery throughout the Mid-Atlantic. This conference (or task) chair is available in mid-back and high-back options and has a chrome base which adds classic style. The Merak is available with a leather-feel vinyl (trademarked to this product) in black or gray.
Encore Memento
When clients request that "special something" in a conference chair….great looks, comfort, durability….The Memento by Encore wins every time. It is fully upholstered with a seamed channel back option for a modern, sophisticated design. Memory foam is standard in the seat, and the base is available in black or (our favorite) polished aluminum.  The Memento chair is among our best choices when we design and furnish conference rooms for clients who want a truly personalized look in conference chairs. 
Please visit our Seating Products here.
Remember, 1 Source is able to furnish offices here in Maryland and across the United States through our affiliate installers.  Call (410)-978-6500 for more information.