One of the most critical office furniture buying decisions is which ergonomic task chair is best for my work force?
We take affordable office seating very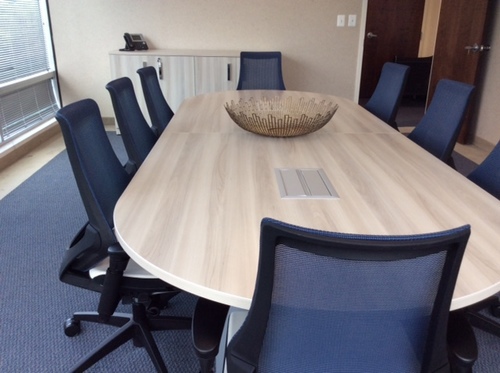 seriously here at 1 Source Office Furniture in Maryland. Why?
Because our office furniture buyers want only top quality office chairs for Maryland businesses with back support, ample adjustments, and softly supportive seats.
In fact, owner Marc Rosen has, for 40 years, been specifying and selling mid-priced ergonomic seating chairs that are built to last.
At 1 Source, Rosen carries only affordable, comfortable and durable ergonomic task chairs.
What are the most important functions in a great ergonomic task chair?
The most important functions will vary with each person, but smart choices in chair functions should make the user comfortable all day. The term "ergonomics" means built to support the human body for the task at hand.
While there are several factors to consider, every great ergonomic seating has a synchronized back feature, which allows the back to move independently of the seat. This allows the user to lean back without having his feet lifted off the ground, thus avoiding pressure on the lower back.
The second feature is to insist on a medium density supportive seat cushion where the user does not bottom out, also helping to keep their posture correct.
Avoid task chairs that are either too firm or too soft. Additional features that are helpful to customize the feel are adjustable seat depth and back height.  Many chair buyers also choose one with lumbar support behind the back (preferably mesh back material) for added comfort and posture correction.
What should an office manager expect to spend per task chair?
It's the job of any good office furnishings dealer to work within a client's budget, so I have found nice chairs for the under $200 budget and with every $50 added beyond that, you should expect to get additional features.
The average price for a good quality mid-price task chair from 1 Source is between $250- $350, a range in which there is ample selection of styles and features.
In most offices, task chairs have simple, classic looks because there are so many of them, while guest chairs can be a little more daring in color and pattern.
What are some of the manufacturers / products you like best in 2019?
Reimers Furniture Manufacturers (RFM) is a very dependable company that offers a wide variety of task chairs that give us great performance in a variety of office environments.
At 1 Source, we specify chairs that have almost zero repairs, even after years of use. For budget-conscious buyers, the Space chair is an excellent choice for the money.
There are also some nice offerings from AllSeating, who specializes as an exceptional source for seating, and the HON company, a leader in office furniture for commercial use since the 1940's.
Do task chairs usually come with warranties?
Most chair manufacturers' warranty products for 6 years, and many offer lifetime warranties on the chair's structural integrity; however, fabric wear is usually not covered.
For this reason, we discuss a fabric's durability as demonstrated in textile manufacturers "double rubs" abrasion tests. Fabrics that withstand 100,000+ double rubs are more durable for busy offices than fabrics that can only get to 50,000.
Please explain the delivery process for task chairs:
At 1 Source, we want every customer to receive product fully assembled and 100% perfect, and chairs are no exception. Small chair quantities can sometimes be shipped direct to the client, as we do for some out-of-state clients.
However, most of our projects require more than a few chairs, and we would have an experienced installer deliver the products to insure the chairs are properly assembled. In general, task chairs require very little assembly, but most chairs do not ship fully assembled.
For affordable office ergonomic seating anywhere in the United States, contact 1 Source Office Furniture for a complimentary quote:  mrosen1source@gmail.com