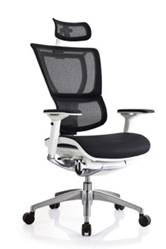 Finding the perfect office chair just got easier thanks to a field testing program conducted by TaskGroup every year. For this competition, TaskGroup tested dozens of chairs in the field, which means that the chairs were used by physical therapists, physicians and corporate warriors who need, among other things….a classic, comfortable chair! But the goal for this competition was to rate each product for its ultimate comfort, day in and day out, in order to deem one "best to sit on."
With so many great chairs on the market today, we find it tough to single out one, but that was the goal of this year's competition.
This year's winner was recognized at the 2017 NEOCON in Chicago, where office furniture retailers and makers gather to view the latest and greatest products for the workplace. And the winner is the iOO Chair by Eurotech, who calls the iOO model "a sleek powerful product of generations of development and refinement, and an obsession with perfection." As an office furniture retailer, we love this chair's tilt tension adjustments and tilt lock, which enables the chair to remember exactly how much you want to lean back, making sure the chair moves to your command every time.
The iOO chair has adjustable lumbar for back comfort and gel under the seat front for thigh support. We also like the iOO's waterfall seat, arms that are fully adjustable to fit different size users, seat depth adjustment and optional headrest. So, in a nutshell this chair literally conforms to the individual and delivers a thoughtful balance of style, durability and comfort.
Our favorite option for this chair is black mesh on a white frame (as shown), giving the iOO serious style that competes with much pricier chairs on the market.
Our price: $599 / For more information, please CONTACT US